Drink Driving Solicitors Dorset
Specialist Motoring lawyers in Dorset, England
There are no drink driving solicitors that are based or carry out work in Dorset, England listed in the Drinkdriving.org solicitor directory yet.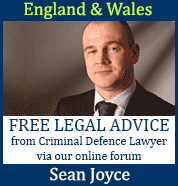 Been charged with drink driving in Dorset?
If your driving license is important to you, we recommend that you contact a Dorset criminal defence solicitor specialising in drink driving, motoring and road traffic law without delay.
If you have been charged with a drink driving related offence in Dorset it is imperative that you contact a qualified criminal defence lawyer in Dorset that specialises in drink driving, motoring and road traffic law as soon as possible.
In order to be convicted of a drink driving related offence, the prosecution must show that the defendant was driving or in charge while exceeding the maximum legal prescribed limit in England.
Following Home Office guidelines, people will not be prosecuted for drink driving in England or Wales if their breath alcohol level is below 40 microgrammes of alcohol in 100 millilitres of breath.
In order for a person to be successfully prosecuted for a drink driving related offence in Dorset, the court must be satisfied that the police have STRICTLY followed all relevant procedures.
The following towns and areas can be found in Dorset:
Abbotsbury, Adber, Affpuddle, Alderholt, Allweston, Almer, Alton Pancras, Anderson, Arne, Ashley Heath, Ashmore, Askerswell, Batcombe, Beaminster, Bedchester, Beer Hackett, Benville Lane, Bere Regis, Bettiscombe, Bincombe, Binghams Melcombe, Birdsmoor Gate, Bishops Caundle, Blackdown, Blandford Camp, Blandford Forum, Blandford St Mary, Bloxworth, Bothenhampton, Bourton, Boveridge, Bovington Camp, Bradford Abbas, Bradford Peverell, Bradpole, Briantspuddle, Bridport, Broadmayne, Broadoak, Broadwey, Broadwindsor, Broom Hill, Bryanston, Buckhorn Weston, Buckland Newton, Burleston, Burstock, Burton, Burton Bradstock, Canford Bottom, Cann, Cann Common, Cashmoor, Cattistock, Caundle Marsh, Cerne Abbas, Chalbury Common, Chaldon Herring, Chalmington, Charlestown, Charlton Marshall, Charminster, Charmouth, Chedington, Cheselbourne, Chetnole, Chettle, Chickerell, Chideock, Chilcombe, Child Okeford, Chilfrome, Christchurch, Church Knowle, Clapgate, Colehill, Compton Abbas, Compton Valence, Coombe Keynes, Coppleridge, Corfe Castle, Corfe Mullen, Corscombe, Cranborne, Crouch Hill, Daggons, Dean, Deanland, Dewlish, Dorchester, Dottery, Drimpton, Dudsbury, Duntish, Durweston, East Burton, East Chaldon, East Chelborough, East Creech, East Knighton, East Lulworth, East Morden, East Orchard, East Stoke, East Stour, Easton, Edmondsham, Evershot, Eype, Farnham, Ferndown, Fifehead Magdalen, Fifehead Neville, Fishpond Bottom, Folke, Folly, Fontmell Magna, Forston, Fortuneswell, Frampton, Frome St Quentin, Gaunts Common, Gillingham, Glanvilles Wootton, Goathill, Godmanstone, Grimstone, Grove, Gussage All Saints, Guys Marsh, Halstock, Hammoon, Hampreston, Harmans Cross, Haydon, Hazelbury Bryan, Hermitage, Herston, Highcliffe, Higher Ansty, Higher Kingcombe, Higher Whatcombe, Hilfield, Hill View, Hilton, Hinton Martell, Hinton St Mary, Holditch, Holnest, Holt, Holt Heath, Holwell, Hooke, Horton, Huntingford, Hurn, Ibberton, Iwerne Courtney or Shroton, Iwerne Minster, Kimmeridge, Kings Stag, Kingston, Kingston Russell, Kington Magna, Knap Corner, Knowlton, Lane End, Langton Herring, Langton Long Blandford, Langton Matravers, Leigh, Lillington, Littlebredy, Litton Cheney, Loders, Long Bredy, Long Crichel, Longburton, Longham, Lower Bockhampton, Lower Kingcombe, Lower Wraxall, Lulworth Camp, Lydlinch, Lyme Regis, Lyons Gate, Lytchett Matravers, Lytchett Minster, Madjeston, Maiden Newton, Mannington, Manston, Manswood, Mapperton, Mappowder, Margaret Marsh, Marnhull, Marshalsea, Marshwood, Martinstown, Melbury Abbas, Melbury Bubb, Melbury Osmond, Melbury Sampford, Melcombe Bingham, Melcombe Regis, Melplash, Middlemarsh, Milborne St Andrew, Milton Abbas, Milton on Stour, Minchington, Minterne Magna, Monkton Up Wimborne, Moor Crichel, Morcombelake, Morden, Moreton, Mosterton, Motcombe, Mudeford, Nether Cerne, Nether Compton, Netherbury, Nettlecombe, Norden, North Poorton, North Wootton, Oborne, Okeford Fitzpaine, Osmington, Osmington Mills, Over Compton, Overcombe, Owermoigne, Pamphill, Parley Cross, Peacemarsh, Pentridge, Piddlehinton, Piddletrenthide, Pilsdon, Pimperne, Plush, Portesham, Powerstock, Poxwell, Poyntington, Preston, Puddletown, Pulham, Puncknowle, Purse Caundle, Radipole, Rampisham, Ridge, Rodden, Romford, Ryall, Ryme Intrinseca, Salwayash, Sandford, Sandford Orcas, Sandhills, Seaborough, Seatown, Shaftesbury, Shapwick, Sherborne, Shillingstone, Shipton Gorge, Silton, Sixpenny Handley, Slepe, South Bowood, South Perrott, Southwell, Spetisbury, St Ives, St Leonards, Stalbridge, Stalbridge Weston, Stanbridge, Stapehill, Steeple, Stinsford, Stoborough, Stoborough Green, Stockwood, Stoke Abbott, Stoke Wake, Stokeford, Stour Provost, Stour Row, Stourpaine, Stourton Caundle, Stratton, Stubhampton, Studland, Sturminster Common, Sturminster Marshall, Sturminster Newton, Sutton Holms, Sutton Poyntz, Sutton Waldron, Swanage, Swyre, Sydling St Nicholas, Symondsbury, Tadden, Tarrant Crawford, Tarrant Gunville, Tarrant Hinton, Tarrant Keyneston, Tarrant Launceston, Tarrant Monkton, Tarrant Rawston, Tarrant Rushton, Thorncombe, Thornford, Thornicombe, Three Legged Cross, Tincleton, Todber, Toller Down Gate, Toller Fratrum, Toller Porcorum, Toller Whelme, Tolpuddle, Trent, Tricketts Cross, Turners Puddle, Turnworth, Twyford, Tyneham, Ulwell, Up Cerne, Up Sydling, Uphall, Uploders, Uppington, Upton, Upwey, Verwood, Walditch, Wareham, Warmwell, Waytown, West Bay, West Bexington, West Chelborough, West Compton, West Holme, West Knighton, West Lulworth, West Milton, West Moors, West Orchard, West Parley, West Stafford, West Stour, Westham, Weston, Weymouth, Whetley Cross, Whitchurch Canonicorum, Whitcombe, White Lackington, Whitmore, Wimborne Minster, Wimborne St Giles, Winfrith Newburgh, Winkton, Winterborne Came, Winterborne Clenston, Winterborne Houghton, Winterborne Kingston, Winterborne Monkton, Winterborne Stickland, Winterborne Whitechurch, Winterborne Zelston, Winterborne Abbas, Winterborne Steepleton, Witchampton, Woodcutts, Woodlands, Woodsford, Woodyates, Wool, Woolland, Wootton Fitzpaine, Worth Matravers, Wyke, Wyke Regis, Wynford Eagle, Yetminster.