Drink Driving Solicitors Devon
Specialist Motoring lawyers in Devon, England
There are no drink driving solicitors that are based or carry out work in Devon, England listed in the Drinkdriving.org solicitor directory yet.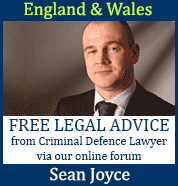 Been charged with drink driving in Devon?
If your driving license is important to you, we recommend that you contact a Devon criminal defence solicitor specialising in drink driving, motoring and road traffic law without delay.
If you have been charged with a drink driving related offence in Devon it is imperative that you contact a qualified criminal defence lawyer in Devon that specialises in drink driving, motoring and road traffic law as soon as possible.
In order to be convicted of a drink driving related offence, the prosecution must show that the defendant was driving or in charge while exceeding the maximum legal prescribed limit in England.
Following Home Office guidelines, people will not be prosecuted for drink driving in England or Wales if their breath alcohol level is below 40 microgrammes of alcohol in 100 millilitres of breath.
In order for a person to be successfully prosecuted for a drink driving related offence in Devon, the court must be satisfied that the police have STRICTLY followed all relevant procedures.
The following towns and areas can be found in Devon:
Abbots Bickington, Abbotsham, Abbotskerswell, Alfardisworthy, Alfington, Allaleigh, Allerford, Almiston Cross, Alphington, Alston, Alswear, Alverdiscott, Anvil Corner, Appledore, Arlington, Ash, Ash Bullayne, Ash Mill, Ash Thomas, Ashburton, Ashbury, Ashcombe, Ashford, Ashill, Ashley, Ashmansworthy, Ashprington, Ashreigney, Ashwater, Atherington, Aunk, Aveton Gifford, Avonwick, Awliscombe, Axminster, Axmouth, Aylesbeare, Ayshford, Babbacombe, Babeny, Bampton, Bantham, Barbrook, Barnstaple, Barton, Bassetts Cross, Battisborough Cross, Beacon, Beaford, Beardon, Beaworthy, Beer, Beesands, Beeson, Bellever, Belsford, Belstone, Belstone Corner, Benton, Bere Alston, Bere Ferrers, Berry Pomeroy, Berrynarbor, Bickham Bridge, Bickington, Bickleigh, Bickleton, Bideford, Bigbury, Bigbury-on-Sea, Bishops Nympton, Bishops Tawton, Bishopsteignton, Bittadon, Bittaford, Black Dog, Black Torrington, Blackawton, Blackborough, Blackdown, Blackmoor Gate, Blagdon, Boasley Cross, Bolberry, Bolham, Bolham Water, Bondleigh, Boohay, Bovey Tracey, Bow, Bowd, Bowden, Bradford, Bradninch, Bradstone, Bradworthy, Brampford Speke, Brandis Corner, Branscombe, Bratton Clovelly, Bratton Fleming, Braunton, Brayford, Brendon, Bridestowe, Bridford, Bridgerule, Brimley, Brithem Bottom, Brixham, Brixton, Broad Clyst, Broadhembury, Broadhempston, Broadnymet, Broadwood Kelly, Broadwoodwidger, Brownston, Brushford Barton, Bucks Cross, Bucks Mills, Buckerell, Buckfast, Buckfastleigh, Buckland, Buckland Brewer, Buckland Filleigh, Buckland in the Moor, Buckland Monachorum, Buckland-tout-Saints, Budlake, Budleigh Salterton, Bulkworthy, Burlescombe, Burrington, Butterleigh, Cadbury, Cadbury Barton, Cadeleigh, Cadover Bridge, Calverleigh, Capton, Caton, Cator Court, Chagford, Challacombe, Chapmans Well, Chardstock, Charles, Chasty, Chawleigh, Cheldon, Cheriton, Cheriton Bishop, Cheriton Cross, Cheriton Fitzpaine, Chettiscombe, Chevithorne, Chillaton, Chillington, Chilsworthy, Chittlehamholt, Chittlehampton, Chivelstone, Christow, Chudleigh, Chudleigh Knightnon, Chumleigh, Church Green, Churchstow, Churchtown, Churston Ferrers, Clannaborough Barton, Clapworthy, Clawton, Clayhanger, Clayhidon, Clearbrook, Clovelly, Clovelly Cross, Clyst Honiton, Clyst Hydon, Clyst St George, Clyst St Lawrence, Clyst St Mary, Cobbaton, Cockington, Cockwood, Coffinswell, Colaton Raleigh, Coldeast, Coldridge, Coles Cross, Colebrook, Colebrooke, Coleford, Colestocks, Collaton St Mary, Colleton Mills, Colliton, Colyford, Colyton, Combe Martin, Combe Raleigh, Combeinteignhead, Combpyne, Compton, Cookbury, Coombe, Copplestone, Copy Lake, Cornwood, Cornworthy, Coryton, Cotleigh, Countess Wear, Countisbury, Court Barton, Cove, Cowley, Crabtree, Craddock, Cranford, Crapstone, Creacombe, Crediton, Creedy Park, Crockernwell, Cross Green, Crownhill, Croyde, Cruwys Morchard, Cudliptown, Cullompton, Culmstock, Daccombe, Dalwood, Dartington, Dartmeet, Dartmouth, Dawlish, Dean, Dean Prior, Denbury, Devonport, Didworthy, Dinworthy, Diptford, Dittisham, Doccombe, Doddiscombsleigh, Dog Village, Dolton, Dousland, Dowland, Dowlands, Down St Mary, Down Thomas, Downton, Drakeland Corner, Drewsteignton, Dulford, Dunchideock, Dunkeswell, Dunsford, Dunstone, Dunterton, Dyke, East Allington, East Anstey, East Buckland, East Budleigh, East Charleton, East Cornworthy, East Down, East Leigh, East Mere, East Ogwell, East Panson, East Portlemouth, East Prawle, East Putford, East Village, East Worlington, East-the-Water, Eastington, Eastleigh, Easton, Ebford, Edginswell, Edistone, Efford, Egg Buckland, Eggesford Barton, Elburton, Elmscott, Elstone, Ensis, Ermington, Eworthy, Exbourne, Exeter, Exminster, Exmouth, Exton, Exwick, Fairmile, Fairy Cross, Farringdon, Farway, Felldownhead, Feniton, Fenny Bridges, Filleigh, Fishley Barton, Flete, Folly Gate, Forches Cross, Ford, Forder Greeen, Fremington, Frenchbeer, Frithelstock, Frithelstock Stone, Frogmore, Furley, Furzehill, Galmpton, Gara Bridge, George Nympton, Georgeham, Germansweek, Gidleigh, Gittisham, Godford Cross, Goldworthy, Goodleigh, Goodrington, Goosewell, Goveton, Great Torrington, Gridley Corner, Gulworthy, Gunn, Haccombe, Halberton, Hallsands, Halsinger, Halwell, Halwill, Halwill Junction, Hamlet, Harberton, Harbertonford, Harcombe, Harford, Harpford, Hartland, Hatherleigh, Hawkchurch, Hawkerland, Haytor Vale, Head Bridge, Heale, Heanton Punchardon, Heanton Satchville, Heasley Mill, Heathfield, Hele, Hele Bridge, Hele Lane, Hemborough Post, Hemyock, Henford, Hennock, Herdicott, Herner, Hewton, Hexworthy, Heybrook Bay, High Bickington, High Bray, High Bullen, Highampton, Higher Ashton, Higher Brixham, Higher Cheriton, Higher Gabwell, Higher Tale, Higher Walreddon, Highweek, Hillhead, Hillsford Bridge, Hiscott, Hittisleigh, Hockworthy, Holbeton, Holcombe, Holcombe Rogus, Hollacombe, Hollocombe, Holne, Holsworthy, Holsworthy Beacon, Honeychurch, Honiton, Hooe, Hookway, Hope, Horndon, Horns Cross, Horrabridge, Horridge, Horsebridge, Horwood, Houghton, Hudscott, Huish, Huntsham, Huntshaw Cross, Iddesleigh, Ide, Ideford, Ilfracombe, Ilsington, Instow, Inwardleigh, Ipplepen, Itton, Ivybridge, Jacobstowe, Kellaton, Kelly, Kenn, Kennerleigh, Kennford, Kentisbeare, Kentisbury, Kentisbury Ford, Kenton, Kerswell, Kilmington, Kings Nympton, Kings Heanton, Kingsbridge, Kingscott, Kingskerswell, Kingsteignton, Kingston, Kingswear, Kismeblon Bridge, Kitley, Knightacott, Knighton, Knowle, Knowstone, Lamerton, Lana, Landcross, Landkey, Landscove, Langdon House, Langford, Langridge, Langridgeford, Langtree, Lapford, Lee, Lee Mill Bridge, Lee Moor, Lettaford, Lewdown, Leworthy, Lewtrenchard, Lifton, Liftondown, Lincombe, Little Torrington, Littleham, Littlehempston, Liverton, Loddiswell, Longcross, Longdown, Loveacott, Lower Ashton, Lower Gabwell, Loxbeare, Loxhore, Luffincott, Luppitt, Lustleigh, Luton, Lutton, Lydacott, Lydcott, Lydford, Lympstone, Lynmouth, Lynton, Madford, Maidencombe, Malborough, Malmsmead, Mamhead, Manaton, Mariansleigh, Maristow, Marldon, Marsh, Marsh Green, Martinhoe, Marwood, Mary Tavy, Marystow, Meavy, Meddon, Meeth, Melbury, Meldon, Membury, Merrifield, Merrivale, Merton, Meshaw, Milber, Milford, Millcombe, Milltown, Milton Abbot, Milton Combe, Milton Damerel, Modbury, Molland, Monkleigh, Monkokehampton, Monkton, Morchard Bishop, Morebath, Moreleigh, Moretonhampstead, Mortehoe, Morwellham, Muddiford, Murchington, Musbury, Mutterton, Nether Exe, Netherton, Netton, Newcott, Newport, Newton Abbot, Newton Ferrers, Newton Poppleford, Newton St Cyres, Newton St Petrock, Newton Tracey, Nicholashayne, Nomansland, Normans Green, North Bovey, North Brentor, North Buckland, North Heasley, North Huish, North Molton, North Radworthy, North Tawton, North Town, North Whilborough, Northam, Northcote Manor, Northcott, Northleigh, Northlew, Noss Mayo, Nymet Rowland, Nymet Tracey, Oak Cross, Oakford, Offwell, Okehampton, Okehampton Camp, Oldborough, Oldridge, Oldways End, Oreston, Otterton, Ottery St Mary, Paignton, Pancrasweek, Parkham, Parkham Ash, Parracombe, Patchole, Payhembury, Pennymoor, Peter Tavy, Peters Marland, Petrockstow, Petton, Philham, Pickwell, Pilton, Pinhay, Pinhoe, Pinn, Pippacott, Pitt, Plym Bridge, Plymouth, Plympton, Plymstock, Plymtree, Pocombe Bridge, Poltimore, Ponsworthy, Portgate, Postbridge, Poughill, Poundsgate, Powderham, Powlers Piece, Preston, Princetown, Prixford, Puddington, Pyworthy, Quoditch, Rackenford, Rattery, Ravenshayes, Rawridge, Raymonds Hill, Red Post, Rew, Rewe, Riddlecombe, Ringmore, Riverford Bridge, Roborough, Rockbeare, Romansleigh, Rose Ash, Rosemary Lane, Rousdon, Rowley, Rundlestone, Rydon, Salcombe, Salcombe Regis, Sampford Courtenay, Sampford Peverell, Sampford Spiney, Sandford, Sanduck, Sandygate, Satterleigh, Saunton, Scorriton, Seaton, Seaton Junction, Sequers Bridge, Shaldon, Shallowford, Shaugh Prior, Shebbear, Sheepstor, Sheepwash, Sheldon, Sherford, Sherwood Green, Shillingford, Shillingford St George, Shilstone, Shinners Bridge, Shiphay, Shipley Bridge, Shirwell, Shirwell Cross, Shobrooke, Shortacombe, Shute, Sidbury, Sidford, Sidmouth, Sigford, Silverton, Slade, Slapton, Smallridge, Smeatharpe, Smithincott, Soar, Soldon Cross, Sourton, South Allington, South Brent, South Hole, South Huish, South Milton, South Molton, South Pool, South Radworthy, South Tawton, South Zeal, Southcott, Southleigh, Sowton, Sparkwell, Spreyton, St Anns Chapel, St Budeaux, St Giles in the Wood, St Giles on the Heath, St Johns Chapel, St Marychurch, Staddiscombe, Starcross, Staverton, Sterridge, Stibb Cross, Sticklepath, Stockland, Stockleigh English, Stockleigh Pomeroy, Stoke, Stoke Canon, Stoke Fleming, Stoke Gabriel, Stoke Rivers, Stokeintignhead, Stokenham, Stonehouse, Stoodleigh, Stowford, Strete, Sutcombe, Swimbridge, Swimbridge Newland, Sydenham Damerel, Taddiport, Talaton, Tamerton Foliot, Tapeley, Tavistock, Taw Bridge, Taw Green, Tawstock, Tedburn St Mary, Teigngrace, Teignmouth, Templeton, Templeton Bridge, Tetcott, Thelbridge Barton, Thornbury, Thornton Cross, Thorverton, Throwleigh, Thrushelton, Thurlestone, Tigley, Tinhay, Tinney, Tippacott, Tipton St John, Titchberry, Tiverton, Topsham, Topsham Bridge, Torbryan, Torcross, Torquay, Torr, Tosberry, Totnes, Trentishoe, Trimstone, Trusham, Tuckenhay, Turnchapel, Twitchen, Two Bridges, Tytherleigh, Uffculme, Ugborough, Umberleigh, Up Exe, Upham, Uplowman, Uplyme, Upottery, Upton, Upton Hellions, Upton Pyne, Uton, Venn, Venn Ottery, Vicarage, Villavin, Virginstow, Walkhampton, Warkleigh, Warren House, Washbourne, Washfield, Washford Pyne, Waterloo Cross, Way Village, Weare Giffard, Week, Welcombe, Well Town, Wembury, Wembworthy, West Alvington, West Anstey, West Buckland, West Charleton, West Down, West Hill, West Ogwell, West Putford, West Worlington, Westcott, Westlake, Westleigh, Weston, Westward Ho!, Westwood, Weycroft, Whiddon Down, Whimple, Whipton, Whitchurch, Whitestone, Whiteworks, Whitford, Whitnage, Widecombe in the Moor, Widworthy, Wiggaton, Willand, Willsworthy, Wilmington, Winkleigh, Winswell, Witheridge, Withleigh, Withycombe Raleigh, Wolborough, Wonson, Woodbury, Woodbury Salterton, Woodland, Woodleigh, Woodtown, Woolacombe, Woolfardisworthy, Woollaton, Woolston Green, Worswell, Wrafton, Yarcombe, Yarnscombe, Yealmpton, Yelverton, Yeo Vale, Yeoford, Yeomadon, Yettington, Youldon, Youldonmoor Cross, Youlstone, Zeal Monachorum.