Drink Driving Solicitors Ceredigion
Specialist Motoring lawyers in Ceredigion, Wales
There are no drink driving solicitors that are based or carry out work in Ceredigion, Wales listed in the Drinkdriving.org solicitor directory yet.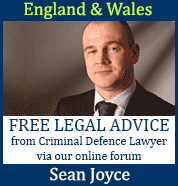 Been charged with drink driving in Ceredigion?
If your driving license is important to you, we recommend that you contact a Ceredigion criminal defence solicitor specialising in drink driving, motoring and road traffic law without delay.
If you have been charged with a drink driving related offence in Ceredigion it is imperative that you contact a qualified criminal defence lawyer in Ceredigion that specialises in drink driving, motoring and road traffic law as soon as possible.
In order to be convicted of a drink driving related offence, the prosecution must show that the defendant was driving or in charge while exceeding the maximum legal prescribed limit in Wales.
Following Home Office guidelines, people will not be prosecuted for drink driving in England or Wales if their breath alcohol level is below 40 microgrammes of alcohol in 100 millilitres of breath.
In order for a person to be successfully prosecuted for a drink driving related offence in Ceredigion, the court must be satisfied that the police have STRICTLY followed all relevant procedures.
The following towns and areas can be found in Ceredigion:
Aber, Aber-banc, Aberaeron, Aberarth, Aberffrwd, Abermeurig, Aberporth, Aberystwyth, Alltyblaca, Angler's Retreat, Bangor Teifi, Bethania, Bettws Bledrws, Bettws Evan, Beulah, Blaenannerch, Blaenpennal, Blaenplwyf, Blaenporth, Bont-goch, Borth, Bow Street, Brongest, Bronnant, Brynhoffnant, Brynog, Bwlch-llan, Caledrhydiau, Capel Bangor, Capel Betws Lleucu, Capel Cynon, Capel Dewi, Capel Seion, Capel St Silin, Capel Tygwydd, Cardigan, Castell Howell, Cellan, Cilcennin, Ciliau-Aeron, Cnwch Coch, Cribyn, Croes-Ian, Cross Inn, Cwmbrwyno, Cwmcoy, Cwmsychbant, Cwmsymlog, Cwmystwyth, Cwrt-newydd, Devil's Bridge, Dihewyd, Dolybont, Dre-fach, Dyffryn Castell, Eglwys Fach, Eisteddfa Gurig, Ffair-Rhos, Ffos-y-ffin, Ffostrasol, Furnace, Gartheli, Gilfachrheda, Glynarthen, Goginan, Gors, Gorsgoch, Gwbert, Hawen, Highmead, Horeb, Lampeter, Llanafan, Llanarth, Llanbadarn Fawr, Llancynfelyn, Llanddeiniol, Llanddewi-Brefi, Llandre, Llandyfriog, Llandygwydd, Llandysul, Llanfair Clydogau, Llanfair-Orllwyn, Llanfarian, Llanfihangel-y-Creuddyn, Llangeitho, Llangoedmor, Llangorwen, Llangranog, Llangwyryfon, Llangybi, Llanilar, Llanon, Llanrhystud, Llansantffraid, Llanwenog, Llanwnen, Llechryd, Lledrod, Llwyn-onn, Llwyncelyn, Llwyndafydd, Maesllyn, Monachty, Mydroilyn, Nanternis, Nebo, New Cross, New Quay, Newcastle Emlyn, Noyadd Trefawr, Oakford, Old Goginan, Pantgwyn, Parcllyn, Parcrhydderch, Pen-bont Rhydybeddau, Penbryn, Pennant, Penparc, Penparcau, Penrhiw-llan, Penrhiw-pal, Penrhyn-coch, Pentrefelin, Pentregat, Penuwch, Plas Gogerddan, Plwmp, Pont Ceri, Pont-rhyd-y-groes, Ponterwyd, Ponthirwaun, Pontrhydfendigaid, Pontshaen, Pren-gwyn, Rhodmad, Rhyd-rosser, Rhydlewis, Rhydowen, Rhydyfelin, Salem, Sarnau, Silian, Strata Florida, Swyddffynnon, Synod Inn, Tal-sarn, Talgarreg, Taliesin, Talybont, Tan-y-groes, Temple Bar, Tre'r-ddol, Tre-groes, Trefenter, Trefilan, Tregaron, Tremain, Tresaith, Troedyraur, Upper Borth, Verwig, Waun Fawr, Wervil Brook, Wstrws, Ynyslas, Ysbyty Cynfyn, Ysbyty Ystwyth, Ysgubor-y-coed, Ystrad Aeron, Ystrad Meurig.