Drink Driving Solicitors Carmarthenshire
Specialist Motoring lawyers in Carmarthenshire, Wales
There are no drink driving solicitors that are based or carry out work in Carmarthenshire, Wales listed in the Drinkdriving.org solicitor directory yet.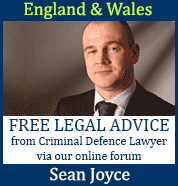 Been charged with drink driving in Carmarthenshire?
If your driving license is important to you, we recommend that you contact a Carmarthenshire criminal defence solicitor specialising in drink driving, motoring and road traffic law without delay.
If you have been charged with a drink driving related offence in Carmarthenshire it is imperative that you contact a qualified criminal defence lawyer in Carmarthenshire that specialises in drink driving, motoring and road traffic law as soon as possible.
In order to be convicted of a drink driving related offence, the prosecution must show that the defendant was driving or in charge while exceeding the maximum legal prescribed limit in Wales.
Following Home Office guidelines, people will not be prosecuted for drink driving in England or Wales if their breath alcohol level is below 40 microgrammes of alcohol in 100 millilitres of breath.
In order for a person to be successfully prosecuted for a drink driving related offence in Carmarthenshire, the court must be satisfied that the police have STRICTLY followed all relevant procedures.
The following towns and areas can be found in Carmarthenshire:
Aber Bowlan, Aberarad, Abercrychan, Abergiar, Abergorlech, Abergwili, Abernant, Alltwalis, Ammanford, Babel, Banc-y-ffordd, Bancffosfelen, Bancyfelin, Bethlehem, Betws, Blaen-y-coed, Blaengweche, Blaenos, Blaenwaun, Brechfa, Broadlay, Broadoak, Broadway, Bron-y-Gaer, Brook, Bryn, Brynamman, Burry Port, Bwich-clawdd, Bwichnewydd, Bynea, Caeo, Capel Gwyn, Capel Gwynfe, Capel Hendre, Capel Isaac, Capel Iwan, Carmarthen, Carmel, Carway, Cefn-y-pant, Cefneithin, Cenarth, Cilgwyn, Cilycwm, Cliff, Clynderwen, Court Henry, Croesyceiliog, Cross Hands, Crugybar, Crwbin, Cwm-Morgan, Cwmann, Cwmbach, Cwmdu, Cwmduad, Cwmfelin Boeth, Cwmfelin Mynach, Cwmffrwd, Cwmisfael, Cwmllyfri, Cwmpengraig, Cynghordy, Cynheidre, Cynwyl Elfed, Dafen, Derwydd, Dinas, Dol-gran, Dolgarreg, Drefach, Dryslwyn, Dyfatty, Dyffryn Ceidrych, Edwinsford, Efailwen, Esgair, Felindre, Felinfoel, Felingwmuchaf, Ferryside, Ffairfach, Ffarmers, Fforest, Ffynnon-ddrain, Five Roads, Four Roads, Garnant, Garthynty, Gellywen, Glanaman, Glanbran, Glynteg, Golden Grove, Gorllwyn, Gorslas, Gwernogle, Gwyddgrug, Halfway, Hebron, Hendy, Henllan, Henllan Amgoed, Heol-ddu, Hermon, Horeb, Johnstown, Kidwelly, Laugharne, Llanarthney, Llanboidy, Llandawke, Llanddarog, Llanddeusant, Llanddowror, Llandefaelog, Llandeilo, Llandeilo Abercywyn, Llandovery, Llandre, Llandybie, Llandyry, Llanegwad, Llanelli, Llanfallteg, Llanfallteg West, Llanfihangel uwch-gwili, Llanfihangel-ar-Arth, Llanfynydd, Llangadog, Llangain, Llangathen, Llangeler, Llangendeirne, Llangennech, Llanglydwen, Llangunnor, Llangynin, Llangynog, Llanllawddog, Llanllwch, Llanllwni, Llanmiloe, Llannon, Llanpumsaint, Llansadurnen, Llansadwrn, Llansaint, Llansawel, Llanstephan, Llanwinio, Llanwrda, Llanybri, Llanybydder, Llanycrwys, Llidiadnenog, Llwyn-y-brain, Llwynhendy, Login, Maerdy, Maesgwynne, Maesybont, Maesycrugiau, Manordeilo, Marros, Meidrim, Meinciau, Merthyr, Myddfai, Nantgaredig, Nantycaws, New Inn, Newchurch, Pantyffynnon, Pembrey, Pen-y-banc, Pen-y-bont, Pen-y-garn, Penboyr, Pencader, Pencarreg, Pendine, Penrherber, Penrhiwgoch, Pensarn, Pentre Gwenlais, Pentre-cwrt, Pentre-ty-gwyn, Pentrecagal, Pentrefelin, Penygroes, Plas, Pont Amber, Pont-Henri, Pontamman, Pontantwn, Pontargothi, Pontarsais, Pontwelly, Pontyates, Pontyberem, Porthyrhyd, Pumsaint, Pwll, Pwll Trap, Ram, Red Roses, Rhandirmwyn, Rhos, Rhosmaen, Rhydargaeau, Rhydcymerau, Rhydywrach, Salem, Sarnau, Saron, St Clears, St Ishmael, Sylen, Talley, Talog, Tanerdy, Tir-y-dail, Trap, Tre-vaughan, Trelech, Trelech a'r Betws, Trevaughan, Trimsaran, Tumble, Twynllanan, Tycroes, Waun y Clyn, Waunclynda, Whitland, Ystradffin.