Drink Driving Solicitors Western Isles
Specialist Motoring lawyers in Western Isles, Scotland
There are no drink driving solicitors that are based or carry out work in Western Isles, Scotland listed in the Drinkdriving.org solicitor directory yet.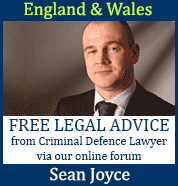 Been charged with drink driving in Western Isles?
If your driving license is important to you, we recommend that you contact a Western Isles criminal defence solicitor specialising in drink driving, motoring and road traffic law without delay.
If you have been charged with a drink driving related offence in Western Isles it is imperative that you contact a qualified criminal defence lawyer in Western Isles that specialises in drink driving, motoring and road traffic law as soon as possible.
In order to be convicted of a drink driving related offence, the prosecution must show that the defendant was driving or in charge while exceeding the maximum legal prescribed limit in Scotland.
In order for a person to be successfully prosecuted for a drink driving related offence in Western Isles, the court must be satisfied that the police have STRICTLY followed all relevant procedures.
The following towns and areas can be found in Western Isles:
Abhainnsuidhe, Achadh Mor, Aignis, Aird, Aird a'Mhulaidh, Aird a'Mhachair, Aird Asaig, Aird Dhail, Aird Leimhe, Aird Mhige, Aird Mhighe, Aird Thunga, Aird Uige, Airdh a'Bhruaich, Aisgernis, Allathasdal, An t-Ob, Ardmhor, Arinambane, Arnol, Athlinne, Bac, Baghasdal, Baile a'Mhanaich, Baile Ailein, Baile an Truisell, Baile Gharbhaidh, Baile Glas, Baile Mhic Phail, Baile Mor, Baile na Cile, Baile nan Cailleach, Baile Raghail, Balelone, Balmartin, Barraglom, Barvas, Bhalamus, Bhaltos, Bhatarsaigh, Boirseam, Borgh, Borghastan, Bornais, Botarua, Bragar, Breacleit, Breanais, Breascleit, Breibhig, Bru, Buaile nam Bodach, Buirgh, Bun Abhainn Eadarra, Cabharstadh, Cairinis, Cairisladar, Cairminis, Calanais, Calbost, Caolas, Caolas Scalpaigh, Carloway, Carragrich, Castlebay, Ceallan, Ceann a'Bhaigh, Ceann Loch Shiphoirt, Cearsiadar, Ceathramh Meadhanach, Ceos, Cill Bhrighde, Cille Pheadair, Cirbhig, Clachan, Cladach a'Chaolais, Cladach Chircebost, Cluer, Cnoc, Coig Peighinnean, Col, Coruna, Cradhlastadh, Creag Ghoraidh, Crois Dughaill, Cros, Crosbost, Crulabhig, Cuidhaseadair, Cuidhir, Cuidhtinis, Dail Beag, Dail Bho Dheas, Dail Bho Thuath, Dail Mor, Dalabrog, Drimore, Eadar Dha Fhadhail, Earsairidh, Einacleit, Eisgean, Eolaigearraidh, Eorodal, Eoropaidh, Fibhig, Fleoideabhagh, Gabhsunn Bho Dheas, Gabhsunn Bho Thuath, Garrabost, Garrynahine, Gearraidh Bhailteas, Gearraidh Bhaird, Gearraidh na Monadh, Gearrannan, Geirninis, Geisiadar, Giosla, Gleann Ghrabhair, Gleann Tholastaidh, Gobhaig, Grabhair, Gramsdal, Greinetobht, Greosabhagh, Griais, Griminis, Grimsiadar, Griomarstaidh, Groigearraidh, Haunn, Hogha Gearraidh, Hosta, Huisinis, Iochda, Islibhig, Kenmore, Kennavay, Kintarvie, Kirkibost, Labost, Lacasaigh, Lacasdal, Langais, Leac a'Li, Leideag, Leth Meadhanach, Leumrabhagh, Liceasto, Linsiadar, Lionacleit, Lional, Liurbost, Loch Sgioport, Lochboisdale, Lochmaddy, Lochportain, Losgaintir, Ludag, Malacleit, Manais, Mangurstadh, Marthig, Maruig, Meabhag, Mealabost, Mealasta, Melbost, Miabhag, Miabhig, Mingearraidh, Mulhagery, Mullach Charlabhaigh, Newmarket, Northton, Pabail Larach, Pabail Uarach, Paibell, Paible, Peighinn nan Aoireann, Poll A'Charra, Port nan Long, Port Nis, Portnaguran, Renigeadal, Rodel, Ruisigearraidh, Saighdinis, Samhla, Sanndabhaig, Scadabhagh, Scealascro, Scolpaig, Seilebost, Seisiadar, Sgarasta Mhot, Sgiogarstaigh, Siabost, Siadar Iarach, Siadar Uarach, Siulaisiadar, Snishival, Solas, Stadhlaigearraidh, Staoinebrig, Stornoway, Strannda, Suainebost, Suardail, Tabost, Tacleit, Taobh a'Deas Loch Baghasdail, Taobh Siar, Tarbert, Teanamachar, Tigh a'Gearraidh, Timsgearraidh, Tobha Mor, Tobson, Tolastadh, Tolastadh Ur, Tom and Fhuadain, Torlum, Trosaraidh, Trumaisge Arraidh, Tunga, Uachdar, Uigen, Uisgebhagh, Urgha.