Drink Driving Solicitors Shropshire
Specialist Motoring lawyers in Shropshire, England
There are no drink driving solicitors that are based or carry out work in Shropshire, England listed in the Drinkdriving.org solicitor directory yet.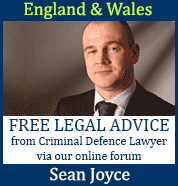 Been charged with drink driving in Shropshire?
If your driving license is important to you, we recommend that you contact a Shropshire criminal defence solicitor specialising in drink driving, motoring and road traffic law without delay.
If you have been charged with a drink driving related offence in Shropshire it is imperative that you contact a qualified criminal defence lawyer in Shropshire that specialises in drink driving, motoring and road traffic law as soon as possible.
In order to be convicted of a drink driving related offence, the prosecution must show that the defendant was driving or in charge while exceeding the maximum legal prescribed limit in England.
Following Home Office guidelines, people will not be prosecuted for drink driving in England or Wales if their breath alcohol level is below 40 microgrammes of alcohol in 100 millilitres of breath.
In order for a person to be successfully prosecuted for a drink driving related offence in Shropshire, the court must be satisfied that the police have STRICTLY followed all relevant procedures.
The following towns and areas can be found in Shropshire:
Abdon, Ackleton, Acton, Acton Burnell, Acton Pigott, Acton Round, Acton Scott, Adderley, Adeney, Admaston, Alberbury, Albrighton, Alcaston, Alderton, Alkington, All Stretton, Allscott, Alveley, Anchor, Annscroft, Arleston, Ash Magna, Ashford Bowdler, Ashford Carbonel, Asterley, Asterton, Astley, Astley Abbotts, Aston, Aston Botterell, Aston Eyre, Aston Munslow, Aston on Clun, Aston Rogers, Atcham, Babbinswood, Badger, Bagley, Ball, Barrow, Baschurch, Battlefield, Baveney Wood, Bayston Hill, Beckbury, Bedstone, Benthall, Berrington, Besford, Betton, Bettws-y-crwyn, Bicton, Bicton Heath, Billingsley, Binweston, Birdsgreen, Bishops Castle, Bitterley, Black Marsh, Bletchley, Bomere Heath, Boningale, Booley, Boraston, Bouldon, Bourton, Bridges, Bridgnorth, Broadstone, Brockton, Brogyntyn, Bromfield, Bronygarth, Broome, Broseley, Broughall, Bryn, Bucknell, Buildwas, Burlton, Burwarton, Buttonoak, Calverhall, Cantlop, Cardeston, Cardington, Catherton, Caynham, Cefn Einion, Chapel Lawn, Chelmarsh, Cheney Longville, Cherrington, Chesterton, Cheswardine, Chetton, Chetwynd Aston, Childs Ercall, Chipnall, Chirbury, Chorley, Church Aston, Church Preen, Church Pulverbatch, Church Stretton, Claverley, Clee St Margaret, Cleedowntown, Cleehill, Cleeton St Mary, Cleobury Mortimer, Cleobury North, Clive, Clun, Clunbury, Clungunford, Clunton, Coalbrookdale, Coalport, Cockshutt, Colebatch, Colemere, Condover, Coreley, Corfton, Cosford, Cound, Crackleybank, Craignant, Craven Arms, Cressage, Crickheath, Croesau Bach, Cross Houses, Cross Lane Head, Crosslanes, Cruckmeole, Cruckton, Crudgington, Culmington, Darliston, Dawley, Deuxhill, Diddlebury, Ditton Priors, Doddington, Donnington, Dorrington, Dovaston, Dryton, Dudleston Heath, Eardington, Eardiston, East Wall, Easthope, Eaton, Eaton Constantine, Eaton upon Tern, Edge, Edgebolton, Edgeley, Edgerley, Edgmond, Edgmond Marsh, Edgton, Edstaston, Ellerdine Heath, Ellerton, Ellesmere, Elson, Enchmarsh, English Frankton, Ensdon, Exfords Green, Eyton, Eyton upon the Weald Moors, Farden, Farley, Farlow, Fauls, Felton Butler, Fitz, Five Turnings, Ford, Forton, Frodesley, Glazeley, Gledrid, Gobowen, Golding, Grafton, Gravels, Great Bolas, Great Hanwood, Great Lyth, Great Ness, Great Ryton, Great Sutton, Great Wytheford, Greete, Gretton, Grimpo, Grindle, Grinshill, Habberley, Hadley, Hadnall, Halford, Halfway House, Hall of the Forest, Hampton, Harley, Harmer Hill, Harton, Hatton, Haughton, Haytons Bent, Heath Hill, Heathcote, Heathton, Hengoed, Henley, High Ercall, High Hatton, High Heath, Highley, Hilton, Hindford, Hindford, hinstock, Hinton, Hints, Hobarris, Hodnet, Holdgate, Hollinswood, Homer, Hook-a-Gate, Hope, Hope Bagot, Hope Bawdler, Hopesay, Hopton, Hopton Cangeford, Hopton Castle, Hopton Wafers, Hoptonheath, Horderley, Horsehay, Howle, Hughley, Ifton Heath, Ightfield, Ironbridge, Isombridge, Kemberton, Kempton, Kenley, Kenwick, Kinlet, Kinnerley, Kinton, Knockin, Knowbury, Knowle, Kynnersley, Lawley, Lea, Leaton, Lee, Lee Brockhurst, Leebotwood, Leegomery, Leigh, Leighton, Lilleshall, Linley, Little Brampton, Little Ness, Little Stretton, Little Wenlock, Llanfair Waterdine, Llanyblodwel, Llawnt, Llwyn, Llynclys, Lockleywood, Long Waste, Longden, Longdon upon Tern, Longford, Longnor, Longslow, Longville in the Dale, Longwood, Loppington, Loughton, Lower Dinchope, Lower Down, Lower Hayton, Lower Hordley, Lower Wallop, Ludford, Ludlow, Lydbury North, Lydham, Lyneal, Madeley, Maesbrook, Maesbury Marsh, Mainstone, Marchamley, Market Drayton, Marsh Green, Marshbrook, Marton, Meadowtown, Melverley, Melverley Green, Meole Brace, Merrington, Middlehope, Middleton, Middleton Priors, Middleton Scriven, Milford, Mill Green, Millenheath, Milson, Minsterley, Minton, Monkhopton, Montford, Montford Bridge, Morda, More, Moreton Corbet, Moreton Say, Morton, Moville, Much Wenlock, Muckleton, Munslow, Myddle, Myddlewood, Myndtown, Nantmawr, Nash, Neen Savage, Neen Sollars, Neenton, Nesscliffe, New Invention, New Marton, Newcastle, Newport, Newtown, Noneley, Norbury, Nordley, Northwood, Norton, Norton in Hales, Nox, Oakengates, Obley, Oldbury, Oldpark, Ollerton, Onibury, Onneley, Oreton, Osbaston, Oswestry, Overton, Paddolgreen, Panpunton, Pant, Peaton, Pennerley, Pentre, Pentreheyling, Peplow, Perkins Beach, Perthy, Petton, Picklescott, Pickstock, Pipe Gate, Pitchford, Plaish, Platt Lane, Plealey, Plowden, Ploxgreen, Pontesbury, Pontesford, Porth-y-waen, Poynton, Poynton Green, Prees, Prees Green, Prees Higher Heath, Preesgweene, Prescott, Presthope, Preston Brockhurst, Preston Gubbals, Preston upon the Weald Moors, Priestweston, Puleston, Pulverbatch, Purlogue, Purslow, Quabbs, Quatford, Quatt, Queens Head, Quina Brook, Ratlinghope, Redhill, Rednal, Rhewl, Rhydycroesau, Rhyn, Richards Castle, Roden, Rodington, Romsley, Rorrington, Rosehill, Roughton, Rowley, Rowton, Ruckley, Rushbury, Rushmoor, Rushton, Ruyton-Xl-Towns, Ryton, Sambrook, Selattyn, Shackerley, Shawbury, Sheinton, Shelderton, Shelton, Shelve, Sheriffhales, Shifnal, Shipley, Shipton, Shoot Hill, Shrawardine, Shrewsbury, Sibdon Carwood, Sidbury, Siefton, Silvington, Sleapford, Snailbeach, Snitton, Sodylt Bank, Soudley, Spoonley, St Martins, Stanton Lacy, Stanton Long, Stanton upon Hine Heath, Stanwardine in the Fields, Stapleton, Stirchley, Stockton, Stoke Heath, Stoke on Tern, Stoke St Milborough, Stokesay, Stoney Stretton, Stottesdon, Stowe, Street Dinas, Strefford, Sretton Heath, Stretton Westwood, Sutton, Sutton Maddock, Swancote, Tasley, Telford, Ternhill, Tetchill, The Bog, The Isle, The Smithies, The Wyke, Tibberton, Tilley, Tilstock, Tong, Tong Norton, Treflach, Trefonen, Trench, Tugford, Twitchen, Uffington, Upper Affcot, Upper Aston, Upper Cound, Upper Hayton, Upper Heath, Upper Ludstone, Uppington, Upton Cressett, Upton Magna, Vennington, Vernolds Common, Walcot, Walford, Wall Bank, Wall under Heywood, Walton, Waters Upton, Weirbrook, Wellington, Welsh End, Welsh Frankton, Welshampton, Wem, Wentnor, West Felton, Westbury, Westhope, Westley, Weston, Weston Heath, Weston Lullingfields, Weston Rhyn, Whethill, Whitchurch, Whitcott Keysett, Whittingslow, Whittington, Whitton, Whixall, Wilcott, Willey, Wistanstow, Wistanswick, Withington, Wollaston, Wollerton, Wolverley, Woodcote, Woodhill, Woodlands, Woodmoor, Woodseaves, Woodside, Wooferton, Woolstaston, Woolston, Woore, Wootton, Worfield, Worthen, Wotherton, Wrentnall, Wrockwardine, Wroxeter, Wyke, Wyken, Wykey, Wyson, Yeaton, Yockleton, Yorton.