FREE LEGAL ADVICE

From Criminal Defence Solicitors
Free Legal Advice for cases in England & Wales
UK criminal defence solicitor Sean Joyce has over 10 years experience in Road Traffic, Motoring and Drink Driving Laws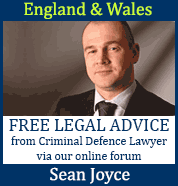 HOW TO OBTAIN FREE LEGAL ADVICE (England & Wales)

Simply create an account and log into our forum to post a question in the 'Ask A Solicitor - Free Legal Advice (Drink Driving Cases in England & Wales, UK)' section and GET COMPLETELY FREE LEGAL ADVICE
About Sean Joyce of Stephensons Solicitors LLP
Sean Joyce is a criminal defence solicitor-advocate who has been a practicing solicitor since 1998, over 15 years. Sean is a partner at Stephensons Solicitors LLP and has extensive knowledge in road traffic, motoring and drink driving laws.
Sean and his highly skilled, experienced team can help clients anywhere in England and Wales and throughout the entire criminal justice process from interviews under caution at the police station to representing and defending clients in both the Magistrates Court and The Crown Court.
Sean has over 10 years experience regularly representing drivers for a variety of motoring offences including drink driving, causing death by dangerous driving, causing death by careless driving and speeding offences. He has also represented a multitude of commercial drivers (HGV, LGV, PCV drivers etc.) appearing before The Traffic Commissioners on a variety of matters and regulatory issues.
Areas of specialism are:
ROAD TRAFFIC LAW:

Advising and representing drivers in relation to all types of road traffic offences from

drink driving

to

causing death by dangerous driving

. Sean has a proven track record in avoiding penalty points and driving bans. He is listed in the directory of

solicitors specialising in road traffic law

by the

Association of British Drivers

.

ROAD TRANSPORT LAW:

Providing advice and representation to the road haulage industry in both the

Magistrates Court

(for prosecutions brought by either the police or Vehicle and Operator Service Agency [VOSA]) and before the Traffic Commissioner at Public Inquiry, representing both drivers and operators.

Sean is an associate member of the Freight Transport Association and allied member of the Road Haulage Association

.
FREE LEGAL ADVICE (Drink Driving in England & Wales) - LATEST FORUM POST
Hi, I have a court date of 15/07. I blew 47 so I know I am in the lowest bracket - though I don't know what this means in terms of fines.
Do I need a solicitor? I really don't have funds. I have been advised I could get a duty solicitor on the day but I don't know how much help they'll actually be able to provide.
Secondly, during the police investigation I think I gave quite inaccurate information based on guessing timings and what happened thereafter. Once released, I was able to look...
Drink driving - do i need a solicitor, where do i go from here?
Post Created On: Mon 15th Jul 2019
A guide to appearing at Magistrates Court for drink driving offences